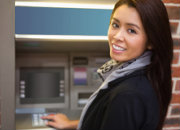 Enjoy anytime access to your account balance — retrievable through the simple swipe of a card you get to personalize!* Make purchases online or in-store virtually anywhere when your personalized MasterCard® is on hand.
Making ATM withdrawals is just as easy: take advantage of surcharge-free access at thousands of ATMs nationwide via our partnership with Shazam Privilege Network. There are no hidden fees or interest owed. Just simple convenience to be gained.
*See the Personalize Your Card tab for details!
Summary

Make purchases virtually anytime, anywhere
Available online or in-store
Direct access to your account balance
No monthly payments or interest owed
Make withdraws at any bank-owned ATM or thousands within the Shazam Privilege Network
Safer than carrying cash, more universally accepted than checks
Easily replaced if lost or stolen

Additional fees may apply.

Enhanced Security by Shazam Bolt

Know what's going on with your account balance at all times with the help of Shazam Bolt. By downloading this convenient app, you will automatically receive email alerts anytime a debit card purchase is made where your card is not present. Plus, you'll receive notifications when potentially fraudulent activity occurs, such as large or foreign transactions. In the instance that you're concerned, put a stop to any transactions by placing a simple phone call. Peace of mind in the form of a simple app — learn more today.

Personalize Your Card

Design your own debit card!* Personalizing your debit card is easy. Just click on the link associated with your local branch and follow the simple instructions on our partner website.

Forrest, Fairbury, & Onarga Branches

Heights Branch

Erie Branch

*Card personalization is available to existing cardholders. If you wish to personalize your card and do not currently have a debit card with us, you must come into a branch to finalize the personalization process.