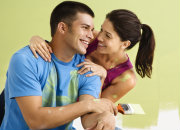 Home is where the heart is; it's also where a good portion of your income goes every month. Make those consistent payments pay off by tapping into your home's equity for a wide range of other personal needs.
From home remodels, to auto purchases, and everything in between — we'll customize budget-friendly financing, based on your unique situation. Enjoy a streamlined process with one, local point of contact. Best of all, the interest you pay might even be tax deductible*!
Summary

Tap into your home's equity for a wide range of personal needs:
Home remodel projects
Education expenses
Debt consolidation
Auto purchases/repairs
And more!
Competitively low rates
Budget-friendly terms, custom-tailored to your unique situation
Interest paid might be tax deductible*
Friendly, knowledgeable service from start to finish
Local decision-making and processing for quick answers

*Consult a tax advisor.