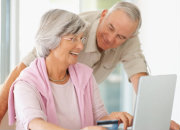 Enjoy free, anytime access to account information at your fingertips. When you want insight into your account, you shouldn't have to wait on a mailman. eStatements cut out these long waits on the mail and time spent searching for a past statement.
Simply go online 24/7 for an easy-to-read snapshot of your accounts. eStatements are better for the environment. They also help to eliminate fraud; by cutting out a paper trail of your private information, you're also safeguarding your identity.
Summary

Free, secure service for FSB customers enrolled in online banking
Convenient, anytime access to statements
Available anywhere with an internet connection
More secure than paper statements
Avoid clutter; eliminates piles of paperwork
Access statements instantly; avoid long waits on the mail
Avoid wasted time searching for a statement
Better for the environment than the paper alternative
Easily print or download to your computer or other storage device

Enroll

Complete the simple enrollment process below to begin receiving eStatements:

Start by logging into online banking. Select Services – My Electronic Statements.
Read and accept the agreement. Enter or confirm your email address – a verification code will be sent immediately to your email address. Enter this code to continue the enrollment process.
Select the accounts you would like to enroll.
If you have any questions, please call us at 815-657-8248.